Independent Contractor Status in the
  Construction Industry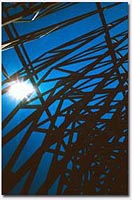 During the 1996 legislative session, language was inserted into the Minnesota workers' compensation law (Chapter 176), which set out who will be considered an independent contractor in the construction industry for purposes of coverage under the workers' compensation law. This language was effective on July 1, 1996.
The language (Minnesota Statutes Section 176.042) applies only to independent contractors doing commercial or residential building construction or improvements in the public or private sector. If an individual is not in the construction industry, the existing criteria in Minnesota Rules Chapter 5224 should continue to be consulted to determine whether an individual should be classified as an independent contractor for workers' compensation purposes.
Under the new law, independent contractor status will be conferred if the individual, as described above, meets all nine of the following conditions. If any one of the conditions are not met, the individual will be an employee for purposes of workers' compensation requirements. The individual is considered an independent contractor if the individual:
maintains a separate business with the independent contractor's own office, equipment, materials and other facilities;
holds or has applied for a federal employer identification number, or has filed business or self-employment income tax returns with the IRS based on that work in the previous year;
operates under contracts to perform specific services or work for specific amounts of money and under which the independent contractor controls the means of performing the services or work;
incurs the main expenses related to the service or work that the independent contractor performs under contract;
is responsible for the satisfactory completion of work or services that the independent contractor contracts to perform and is liable for a failure to complete the work or service;
receives compensation for work or service performed under a contract on a commission or per-job or competitive bid basis and not on any other basis;
may realize a profit or suffer a loss under contracts to perform work or service;
has continuing or recurring business liabilities or obligations; and
the success or failure of the independent contractor's business depends on the relationship of business receipts to expenditures.
For further information, contact the Minnesota Department of Labor and Industry at (651) 284-5019 or 1-800-342-5354

Southwest Insurance Service
146 Third Street
PO Box 369
Balaton, MN 56115
 
Toll Free:
Phone:
Fax:
800-734-6224
507-734-2244
507-734-2245
Email:
steve@southwestins.com
Important Note: This website provides only a simplified description of coverages and is not a statement of contract. Coverage may not apply in all states. For complete details of coverages, conditions, limits and losses not covered, be sure to read the policy, including all endorsements.
© Copyright - Southwest Insurance Service